Testimonials
One comment.

Throughout this little endeavor, you and staff in Germany, and Peter Marshall in Florida and Will in Connecticut were professional, personal, polite, and informative.
You may say I need not write this as vendors should be this.
You and group stand head and shoulders above anyone else. The ability to respond to [my] questions, and to return calls is very important to me.
Other vendors are far too cavalier on these issues, or use the abrupt text message, Facebook, etc. to give non-complete answers.

I do hope you pass this on to the parties involved - and in-service folks - and let your group know 'job well done !'

will be in touch, perhaps through Peter Marshall.

thank you again.

ed


I've had my MT 4-blade props on my RAM VII 340 for a week now, with about 15 hours in the air.
Firstly, the folks at MT in DeLand do what they say they will. I had a great experience working with them from start to finish, though it did take quite a while for the props to come in. Peter Marshall was who I dealt with and he was a straight-shooter and very responsive. Juergen, their chief tech guy, is all business and really knows what he is doing (but don't expect to have any laughs with him...he's just too busy to laugh ;-)).

The props replaced my Hartzell Scimitars that came with my RAM VII upgrade in 2013 (which are for sale still and have 450 hours on them since new - if interested, let me know). I replaced the Hartzells mostly because I had a tax reason that made sense, and secondly because I've been trying to chase every bit of vibration out of my plane for about a year now.

The MT props have removed pretty much every last bit of vibration, as hoped. They are wonderfully smooth. And certainly much quieter.

At mid-teen altitudes I am now getting 200 kts TAS, about a 5kt improvement. At FL180-220 I've seen 205-208 pretty consistently, where I used to see 203 or so. Summer conditions with freezing level around 14-15,000', and 69% power settings (2300 rpm, 29.5", and 17.2 GPH).

I picked up nearly 40lbs of useful load, too. However, I have not seen any significant increase in climb performance between the Hartzells and the MTs - I know others have remarked that they got a lot better climb rate when swapping from other prop types, though.

The last remarkable difference is, as others have reported, at landing. Wow!!! I can't believe how quick the plane slows up when the power is reduced over the threshold. It is a very nice thing to have, but also requires re-thinking some approach procedures, and not reducing power much below 20-21" until at the threshold. I've been carrying 120kts down glideslope, and aim for about 95kts at the numbers. This requires slightly modified power settings with the MTs vs the Hartzells. But when you are ready to drop it on, you pull the power and the plane feels like a big chute has been thrown out back. Very easy to get it stopped, even on the smallest of strips.

So, guess you could say I'm an MT fan. They do everything I hoped they would, and I'd recommend them and the folks in DeLand.
___________________________
Andy Brown
1980 C-340A RAM VII N340EL
I installed an MT wood propeller on my Continental 220 HP Stearman approximately 100 hours ago and am extremely pleased with the propeller and its performance.
The MT replaced a McCauley metal propeller subject to AD 54-12-02, which requires disassembly and magnetic inspection of the hub and blades every 100 operating hours, and restricts operation between 1,500 and 1,650 r.p.m. The MT is not subject to any AD's and has no operating restrictions. The MT is also 25 pounds lighter than the McCauley.
The MT's performance is comparable to the McCauley's. There is a general feeling in the Stearman community that metal propellers out perform wood. However, I recently flew during formation training with a 220 HP Stearman equipped with a Hamilton Standard metal propeller. Although both airplanes performed comparably in cruise, the Hamilton Standard equipped airplane lagged so severely in climb performance that I routinely had to reduce power 100 - 150 rpm so he could remain in position during takeoff and climb.

MT-Propeller USA and general manager David Noad made purchasing an MT a pleasant experience. David answered every question before I ordered, and immediately furnished additional technical information I requested after my prop was delivered. I frequently tell people, "Contrary to what we've come to expect in today's world, MT did everything they said they would do, when (or before) they said they would do it, and for exactly what they said it would cost."

Thank you for making a great product.

Roy Kinsey
Pensacola, Florida
1943 Stearman N2S-4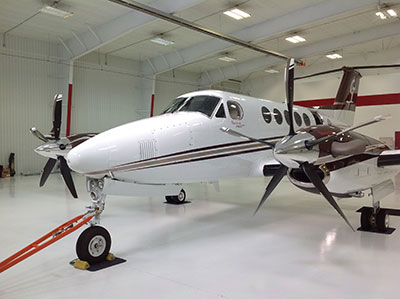 First King Air 200GT in the US with our QFJ-Propeller System MTV-27-1-E-C-F-R(P)/CFR225-55f

Hi Mike,

……Our ground roll today I computed at 700ft less than the performance tables for our conditions (I'm impressed). I noted that we were definitely quieter in the climb and ground ops, had less vibration and also able to achieve as good (possibly slightly better) a climb rate as the 4 blades at 100rpm less (1800). Gerald noticed as we departed just ahead of another KA that we were notably quieter than normal.

As we fly more, I'm collecting data to compare against previous trends.

Thank you,
Fred


Dear Mr. Albrecht,

we like to thank you for the 5 blade props for our King Air B 200.
We upgraded the aircraft with PT6-52 engines and winglets plus your 5 blade props and can tell you the aircraft has much less noise inside and outside.

There is a remarkable Performance increase of almost 40 kts. No Vibration and comfortable cruising.

Best Regards
Eckart Moltmann
V&V Management AG

Hello David,

Long time don't talk to you. Please find attached a picture taken after the installation of the props you sold me.
"Besides its new aggressive look, I can say it feels like a different airplane. You were right, vibration has almost disappeared, the noise level has been dramatically reduced and the climb rate has also improved"

Thank you very much for everything and I hope you could come someday and fly with us.

Best Regards

REINALDO CICHELLA

http://www.youtube.com/watch?v=Ed7q9b95f7E
Customer Feedback of Jim Parran, owner of a Merlin IIB.

I consider myself a strong supporter of your product and philosophy to assist your customers needs to the end.
My old props were well used for almost 40 years and due for at very least one serious overhaul.
Hartzell and McCauley did not want to really talk with me about replacement options so I expanded my search and found you.
I am very glad I did. Your ''can do'' attitude and quality of product is truly amazing. It would be an honor for me to support MT at airshow events when my schedule permits when I start actively flying again.

Thanks to you, Martin, and the entire MT crew for your work on my propellers. I could not be more pleased with their performance and appearance. Happy New Year to you all as well.
Aloha,
Jim Parran - Satisfied customer
Kailua, Hawaii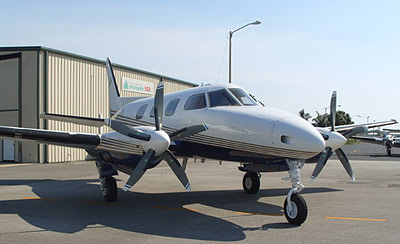 Can't say enough good things about your 5 blade props on my Merlin IIB.
What an all aspect improvement! I look forward to seeing the final performance numbers from Joseph's analysis but subjective reduction in vibration and interior noise is significant. I am very happy with their quality and appearance as well......

Joseph, Doug Turner and the entire DeLand crew were very courteous, professional, and pleasurable to work with during our time there.
I am very happy with my MT props installation.
Thanks again and looking forward to hearing more from you soon on the certification process.

Best wishes,
Jim Parran
...The props on the 340 are well worth the money due to the performance they deliver. I will be happy to discuss them with anyone.
The only "problem" I see is that they will "speed brake" the plane and it feels like it will shut down in midair.
As an instructor with loads of time in these twin Cessna's, especially the short wing, you have got to keep your speed up in the pattern and on final. In the alternative you can make a high approach push the props forward and point the nose straight at the runway.
I am very pleased. There is no vibration. They sound like Pratt and Whitney turbines...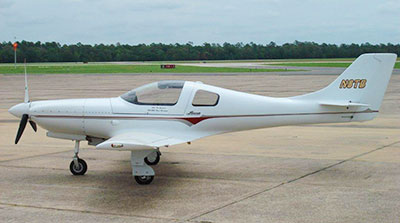 Hi, David.

I wanted to send a few words to compliment you and your staff for all of the assistance during my visit.

Having recently returned home from having your facility overhaul my three bladed electric MT propeller for the second time since purchasing it new 14 years ago, I have had the unique opportunity over these years to again observe the dedication and professionalism of the entire staff of the Deland, FL service center. I elected to once again fly from my home base in Conroe, TX to Deland for this as I was still impressed from my previous visit, six years before, at your facility.

I purchased the propeller new in October, 1997 and installed it in early 1998. It has performed extremely well with no issues and has contributed to making my Lancair 320 the performer that it is. As this overhaul was coming due and in communication with you, I had requested the equivalent of a "NASCAR pit stop" for this overhaul and you and your staff were very accommodating of my accelerated schedule. My direct observation of the technicians who performed the inspection and overhaul of all of the components was that they were very meticulous and careful.

One final observation was since I own a dynamic propeller balancer, I elected to just depart Deland with the standard static balance, planning upon arrival at home base, performing a dynamic balance. Your technician, John, who overhauled and static balanced the prop did such an excellent job that the propeller, upon dynamic electronic balancing indicated it to be only .08 IPS. Very impressive!

Tom Batchelor, Texas
Embry Riddly Sport Aviation Club Letter (pdf)